August 16, 2017 in Post
It's that wonderful time of year again! Young designers have been emerging from universities across the UK where they've worked tirelessly to learn the skills they need to design the products and systems that will make our future world great.
We are always inspired by design that does good, and as we visited degree shows this year we saw a huge range of design concepts that have the potential to help people in so many aspects of life.
In no particular order, we present our favourite disability designs from 2017, here goes!
1. Freedom for people affected by lung disease
Pearl Pulges Email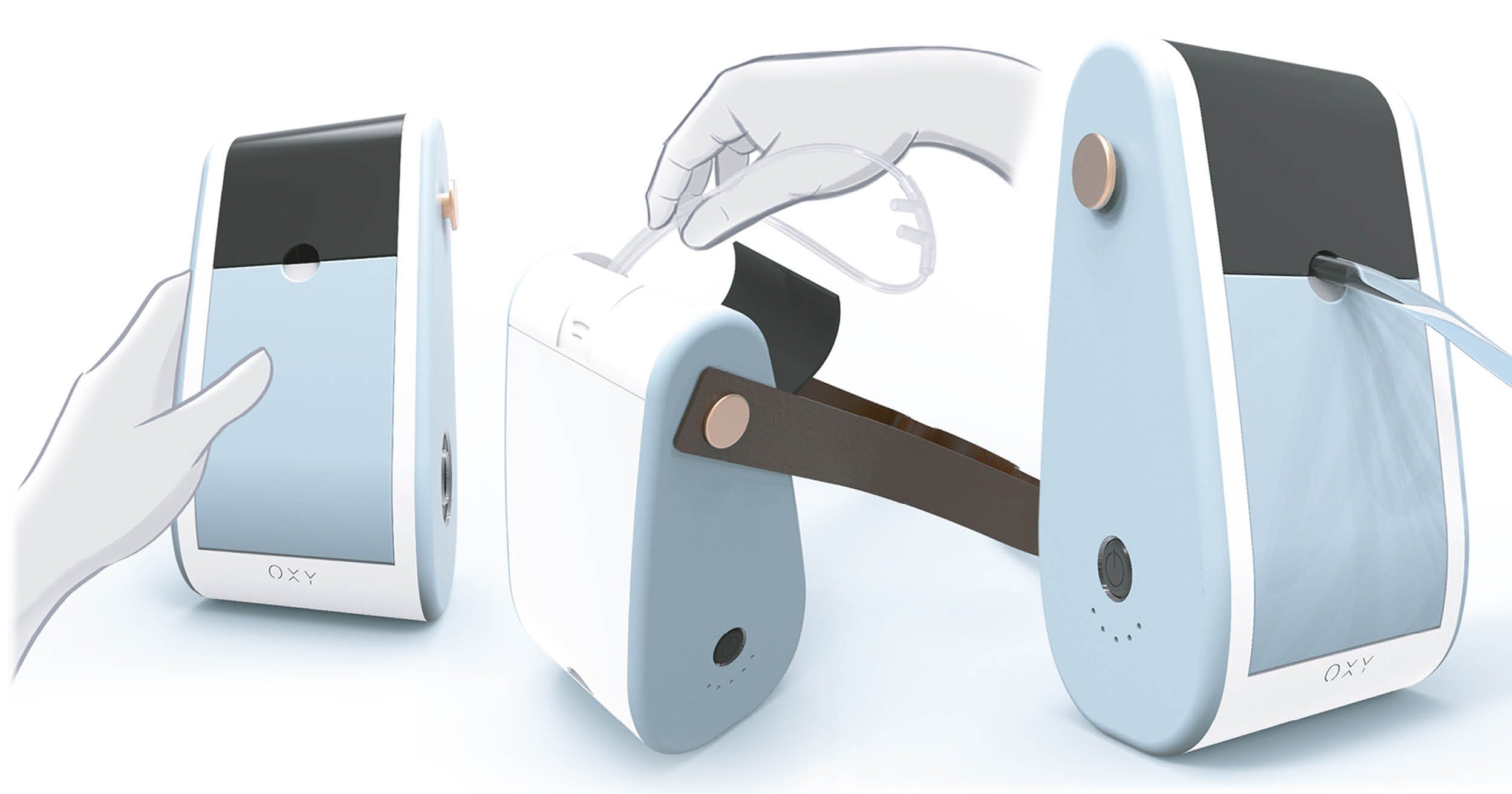 "In the UK, approximately 10,000 people are newly diagnosed with a lung disease every week. These diseases could happen to anyone ranging from babies up to the elders. This portable oxygen concentrator concept design weighs just around 1.5 kg, containing long lasting battery life, simple user interface and functionality focused. The design also features an integrated oximeter and heart rate sensor with Bluetooth connection to smart devices to help reassure and track the patient's use of oxygen."
Pearl was inspired to design a better solution having seen a family member using a static oxygen machine that meant he was unable to move around. We adore Pearl's simple styling which makes this medical device seem approachable and unobtrusive.
"This design was inspired by my grandfather who passed away. The vivid memory of him being chained to a massive machine, getting oxygen pumped harshly into his body was traumatising. This image stimulated and pushed me to design something that would ease out people lives and improve their quality of living."
2. Turning young patients into brave superheroes
Sophie Copley Email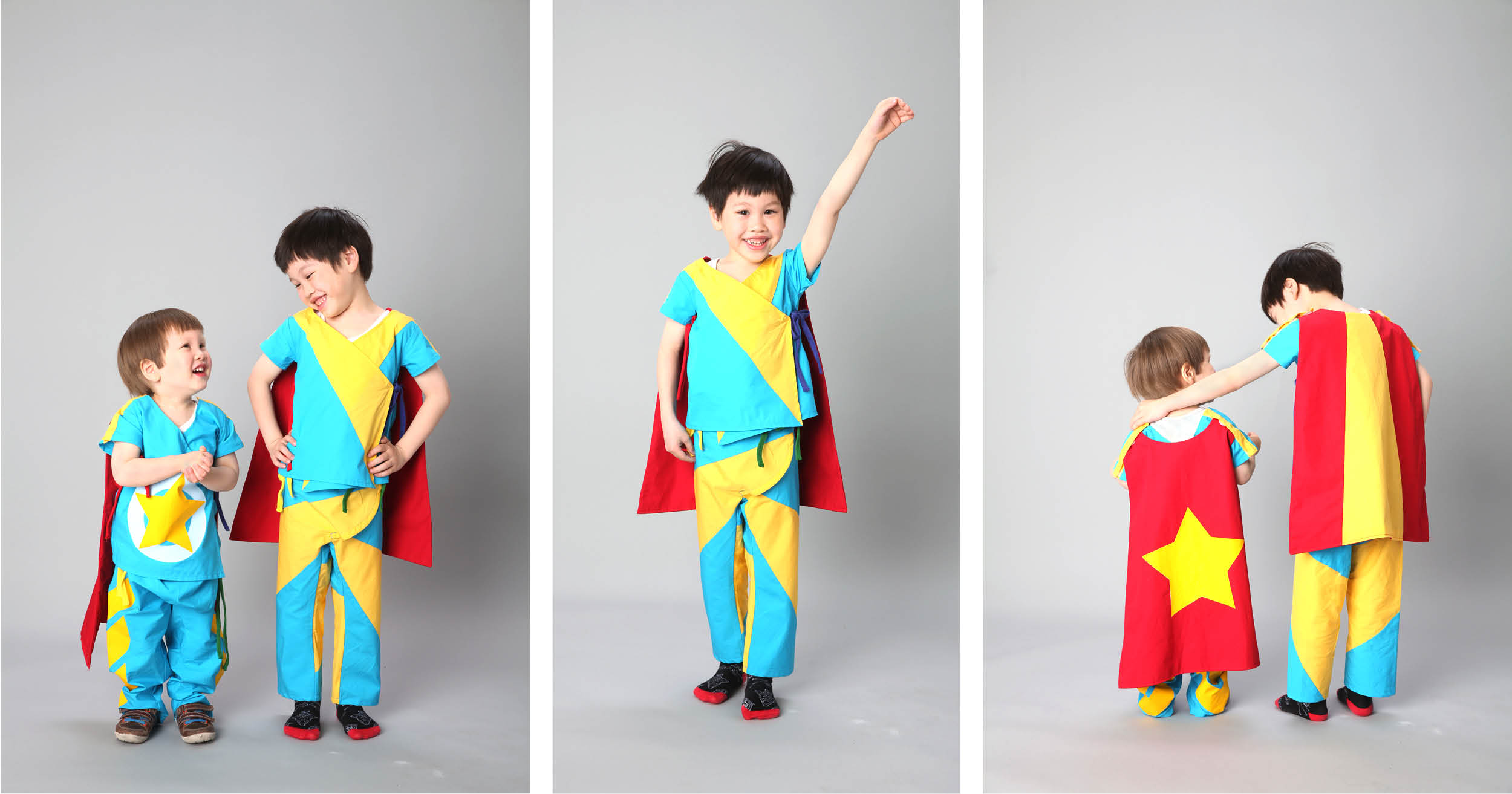 "These superhero hospital garments have been developed for children aged 2-6 years, where increased anxiety due to a lack of understanding and critical thinking leads to worsened outcomes from surgery. Currently, children are made to wear gowns which leave them feeling exposed and uncomfortable."
Sophie designed the garments in collaboration with patients at University College London Hospital, using voting, interviews, and colouring activities that meant the young patients could get involved and excited about their 'superpowers'. For children who need to spend time in hospital, we think this new take on the hospital gown could turn a daunting experience into a new adventure.
"The superhero aesthetic aims to empower children during a stressful time by offering a fun, engaging distraction and an improved hospital experience. The Little Heroes Project has already brought smiles to many children in the paediatric wards at UCLH. A trial of the garments in the paediatric wards is currently being planned for later this year."
3. Empowering amputees to service their own prosthetics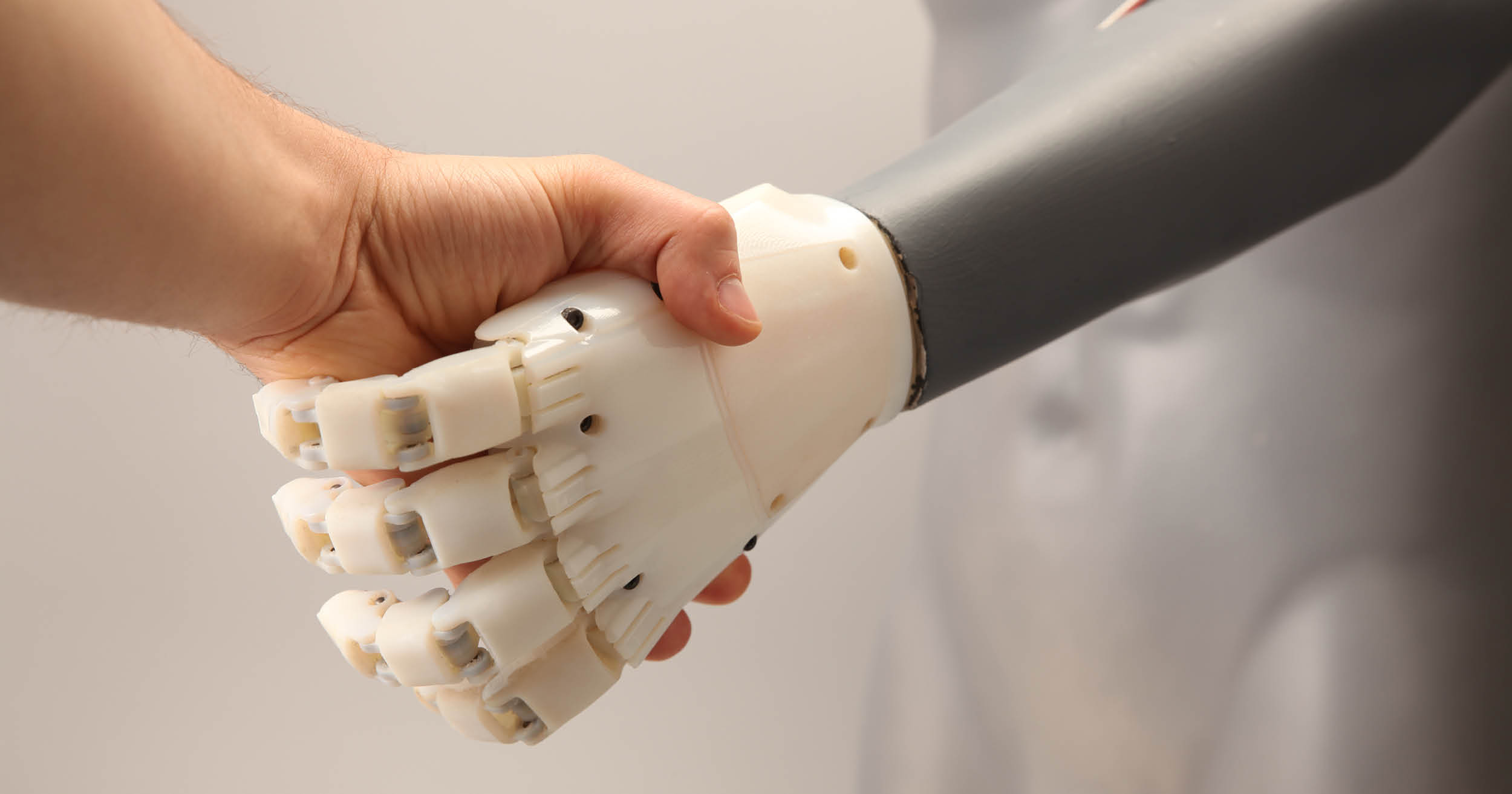 "I was interested how amputees see their prosthetic as a part of themselves and through design I could try to improve this interaction between the amputees and their prosthetic. I came to the conclusion that there are two main barriers to amputees using advanced prostheses; price and durability."
Toby set about exploring ways to encourage better relationships between people and their own prosthetics, arriving at a solution which enables people to carry out maintenance and repairs without input from a technician. With growing NHS waiting times, we love Toby's approach that could empower people to maintain their own prosthetics with simple tools in their own homes.
"Nuada is aimed to empower amputees with the ability to service their own prosthesis themselves. Its 3D printed design and modular finger cartridges allow amputees to replace broken fingers, removing the need to send a broken prosthesis back to the manufacture for weeks at a time."
4. A new use for electric bike technology
Jasmine Taylor Email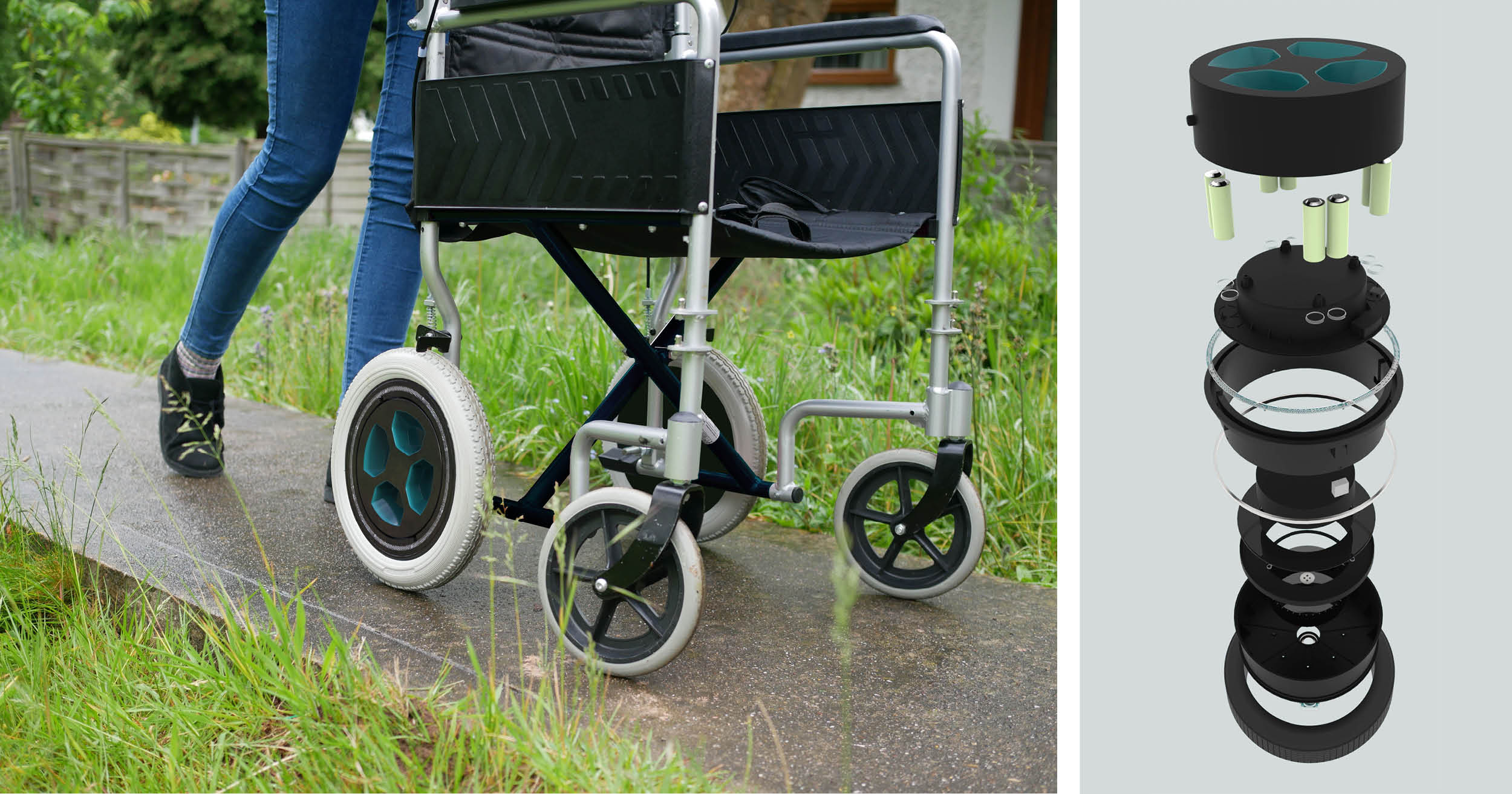 "Assiste uses existing electric bike technology to contain the battery and motor within the wheel. The product is therefore easy to install, the wheels are simply swapped with the standard back wheelchair wheels. This also means the wheelchair can still be folded for transport, another advantage over existing designs."
Jasmine decided to design a product that would improve comfort for caregivers who need to push manual wheelchairs after gaining valuable insight from her great uncle. We think Jasmine's approach of borrowing existing parts from the e-bike industry has real potential to bring down the cost of power assist devices, which are unaffordable for many people who could benefit from them.
"My great uncle is a carer for his wife and as he was getting older it was becoming harder to push the wheelchair over long distances. Researching around the subject I found that 86% of carers reported back, shoulder or neck pain. Assiste was designed to combat this by reducing the strain on carers who push attendant controlled wheelchairs over long or difficult journeys, with the pack allowing users to push up to 15 stone with ease."
5. Reviving hearing for adults
Laurence Munslow Email Website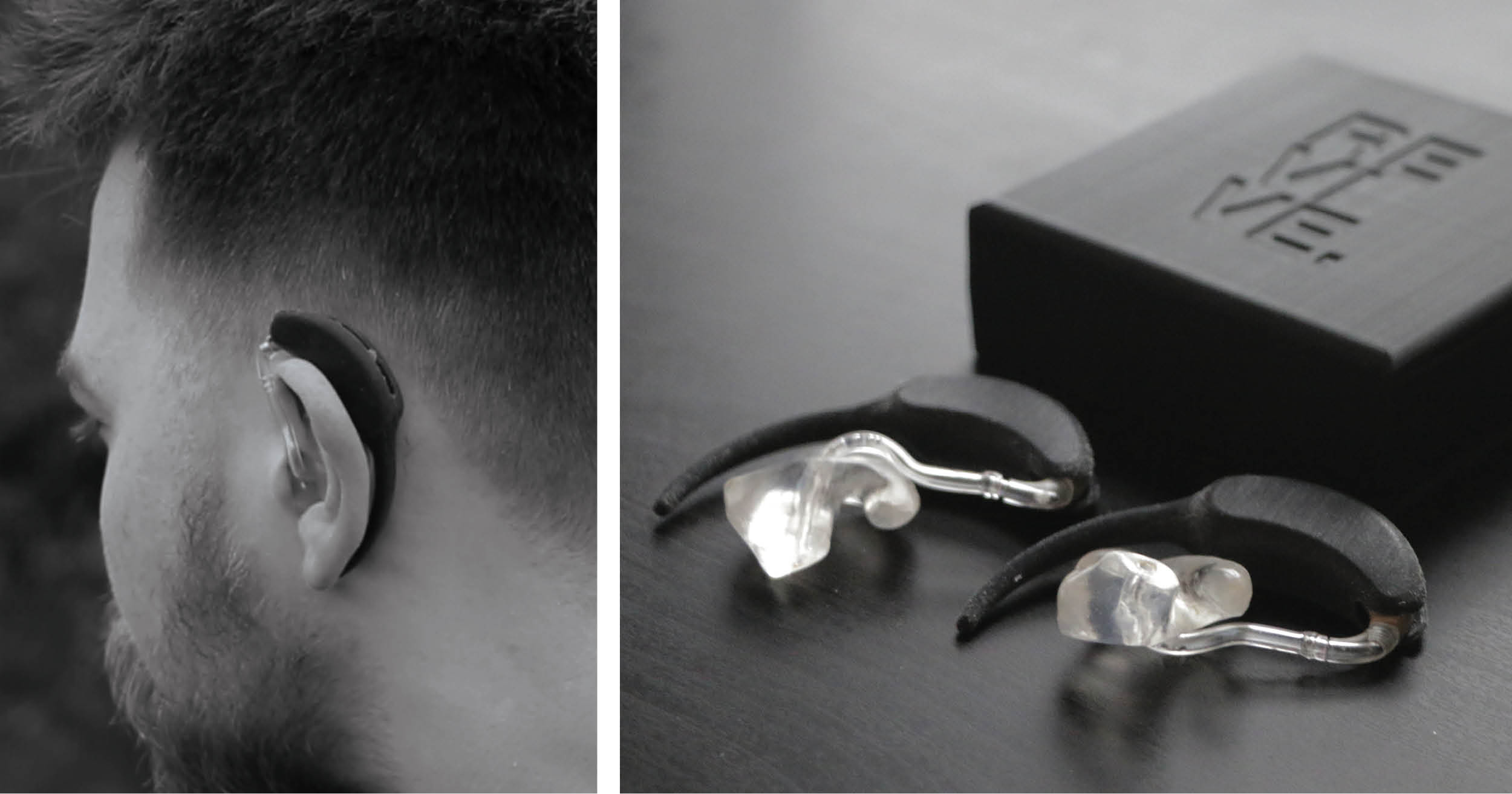 "'Revive Sport' challenges the difficulties that young hearing aid users face with physical sport. A small but inventive silicone mould that slips onto the hearing aid and hooks around the back of the ear allows users to engage in sporting activity without the fear of their hearing device becoming loose. The product also acts as protection from weather conditions such as wind and rain that interferes with the hearing aids in-built microphone, enabling users to enjoy uninterrupted sound whilst staying active."
Laurence's sport adapter works in conjunction with his concept 'Revive Spectrum' a smartphone app that enables individuals to set sound profiles for specific environments, such as a restaurant or office, that activate automatically when you return to the location. We think Laurence's design sparks an important conversation about the diversity and the different needs of people who live with hearing loss.
"Targeted at young adult hearing aid users, 'Revive Sport' and 'Revive Spectrum' tackle the issue of moving the hearing aid into the modern era from two different perspectives, approaching it with solutions that address the physical and socio-emotional problems faced with hearing loss. As a young hearing aid user myself, I always found it frustrating that hearing aid design lacked the acknowledgment of its young and growing user base"
6. An evolving mobility aid to support recovery
Marta Ballester Email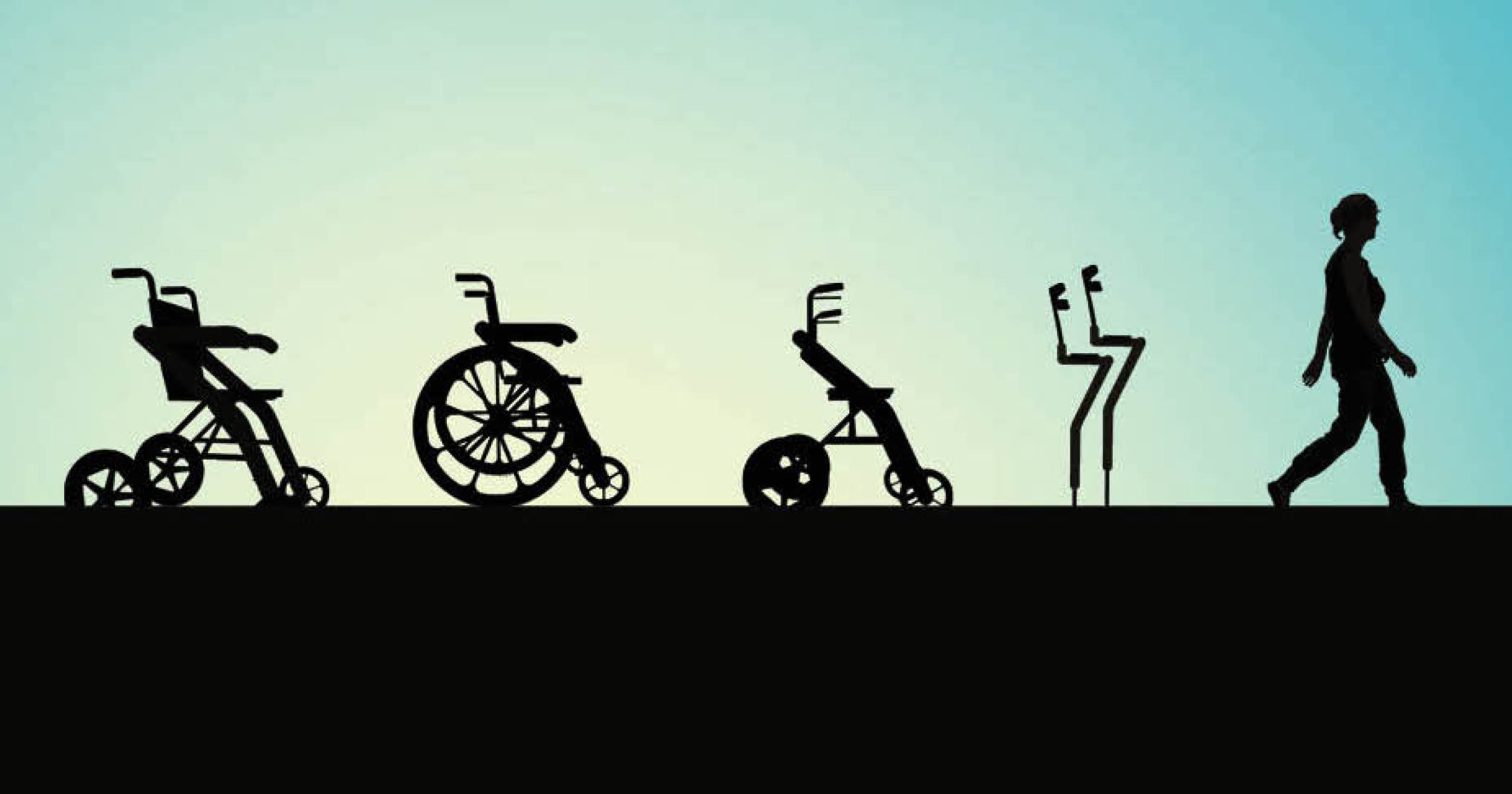 "Evo wheelchair is a completely modular wheelchair that accompanies those who have to go through a mobility recovery. It is made from a series of modules that combine to offer a customised solution through the patient pathway, adapting to the specific needs of its user."
Marta was inspired to tackle this challenge after seeing a friend go through an arduous recovery process after a serious traffic accident, needing different mobility aids at different stages of her rehabilitation. We see so many pairs of crutches, walking frames and wheelchairs sat discarded after being needed for a person's recovery, so we love Marta's approach that could help reduce material waste.
"I decided to design an integral solution to meet the needs of those patients who, like my friend, have to use different mobility aids in a relatively short period of time. The different combinations of EVO wheelchairs' modules give rise to four main setups: transport wheelchair, push rim wheelchair, walker and crutches.The devices can be used in the order that the needs of the patients require, so, EVO wheelchair adapts to a large number of patients who, for different reasons, have to use different mobility aids."
7. Embracing new technologies to improve healthcare
Oonagh Taggart Email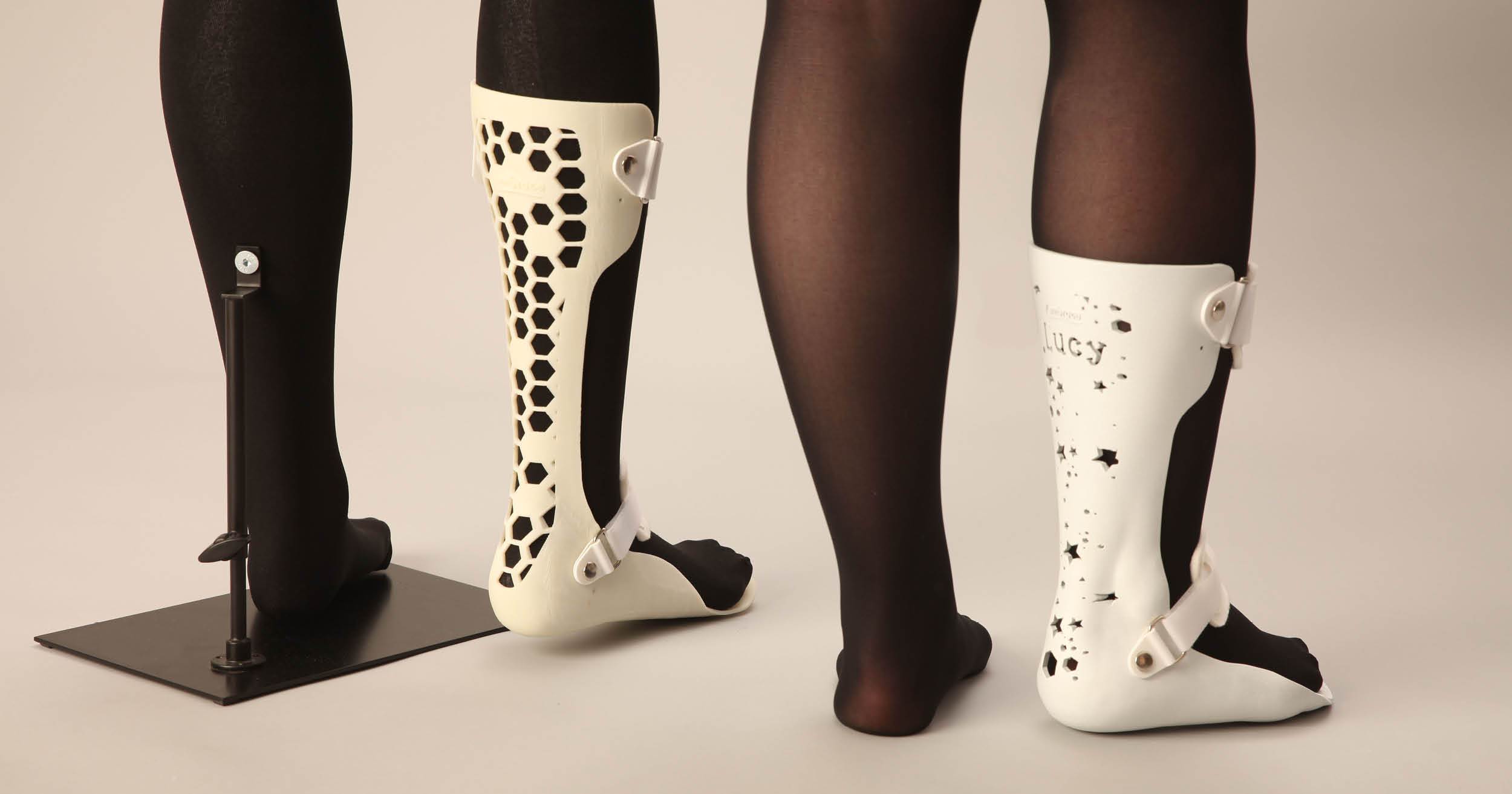 "Traditional craft-based techniques are currently used to manufacture custom orthotics: after the orthotist has cast the patient's leg, a technician creates a mould which is filled, hardened, modified, draped with plastic and, finally, shaped to fit the patient. This process provides effective outcomes but has numerous flaws. Patient supply typically takes 28 days from casting to delivery. It can be uncomfortable and distressingly invasive for the patient."
For rapidly growing children, an average waiting time of a month between casting and delivery is likely to mean the braces don't ever fit perfectly. Oonagh, working with University College London and the Royal National Orthopaedic Hospital, has developed a system using new technologies to improve the experience of having orthotics. Oonagh's use of digital manufacturing would allow for people to have their splints customised with their name, patterns and shapes that suit their own style, awesome!
"Patient supply can be greatly reduced through rapid manufacturing, while fit, comfort and aesthetics can all be improved with increased personalisation of the devices. Specifically, Embrace has redesigned the manufacture of custom ankle and foot orthotics using 3D scanning, 3D printing and testing to address the problems. The Embrace orthotics experience offers a better fit, a personalised design and a streamlined service."
8. Bringing myoelectric technology to the masses
Isobel Billau Email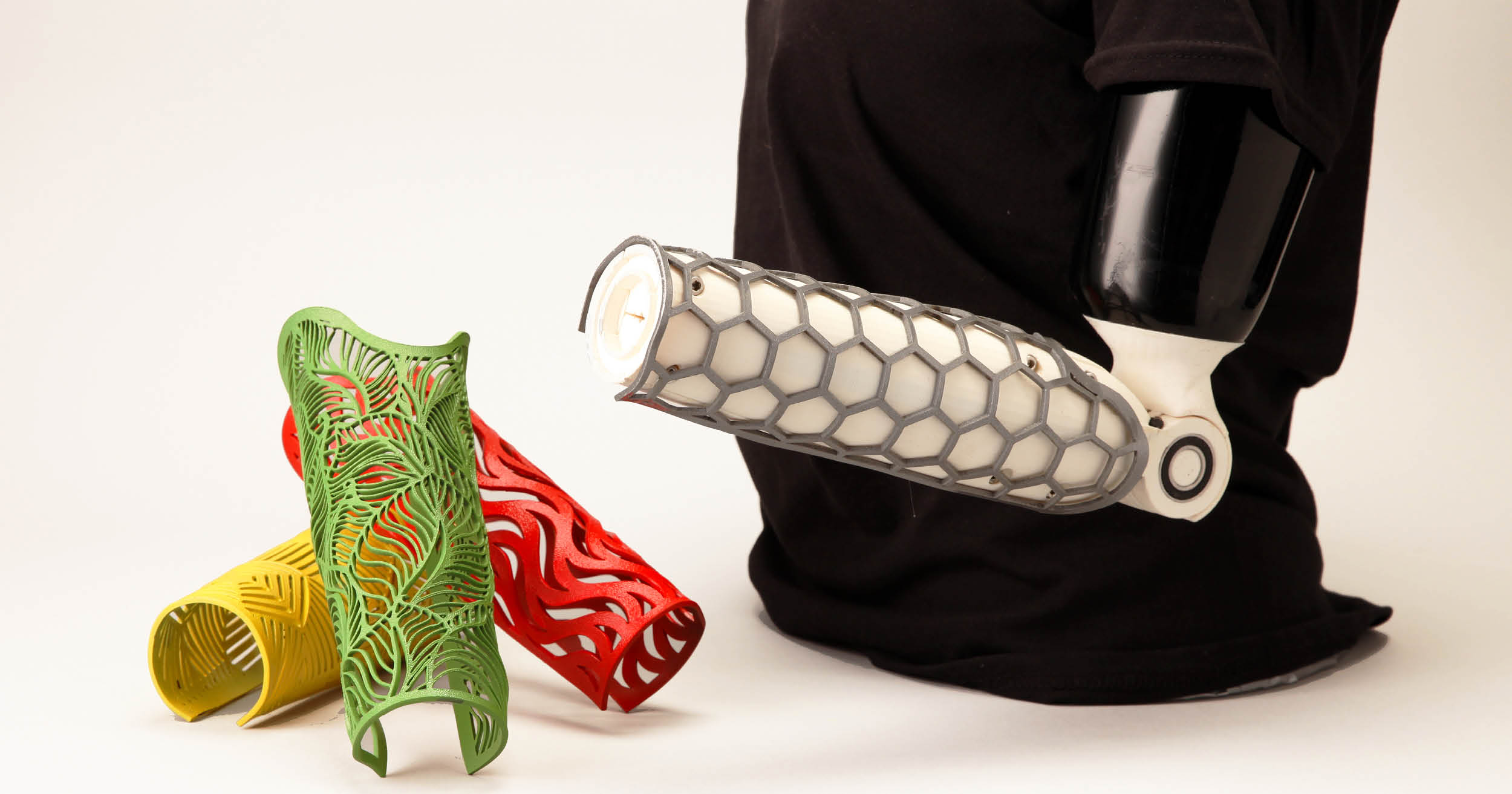 "Losing a limb affects a person both physically and mentally, however a prosthetic can aid a person in everyday tasks as well as aiding self-confidence. Most above elbow amputees are supplied with subpar manual prosthetics controlled using large body movements. Alternative Myoelectric (electronically controlled) prosthetics have a natural control system, but extortionate costs mean these cannot be supplied by the NHS or insurance companies."
Using innovative 3D printing to manufacture the arm means Myo is 300 grams lighter than similar prosthetics and can be made for just a tenth of the cost.
"Myo embraces disability through interchangeable, customisable covers allowing a user to express their individuality through choice of texture, colour and pattern. Myo will be the first affordable myoelectric prosthetic which will allow life changing technology to be delivered to all."
9. A sensory toy that encourages children to connect with nature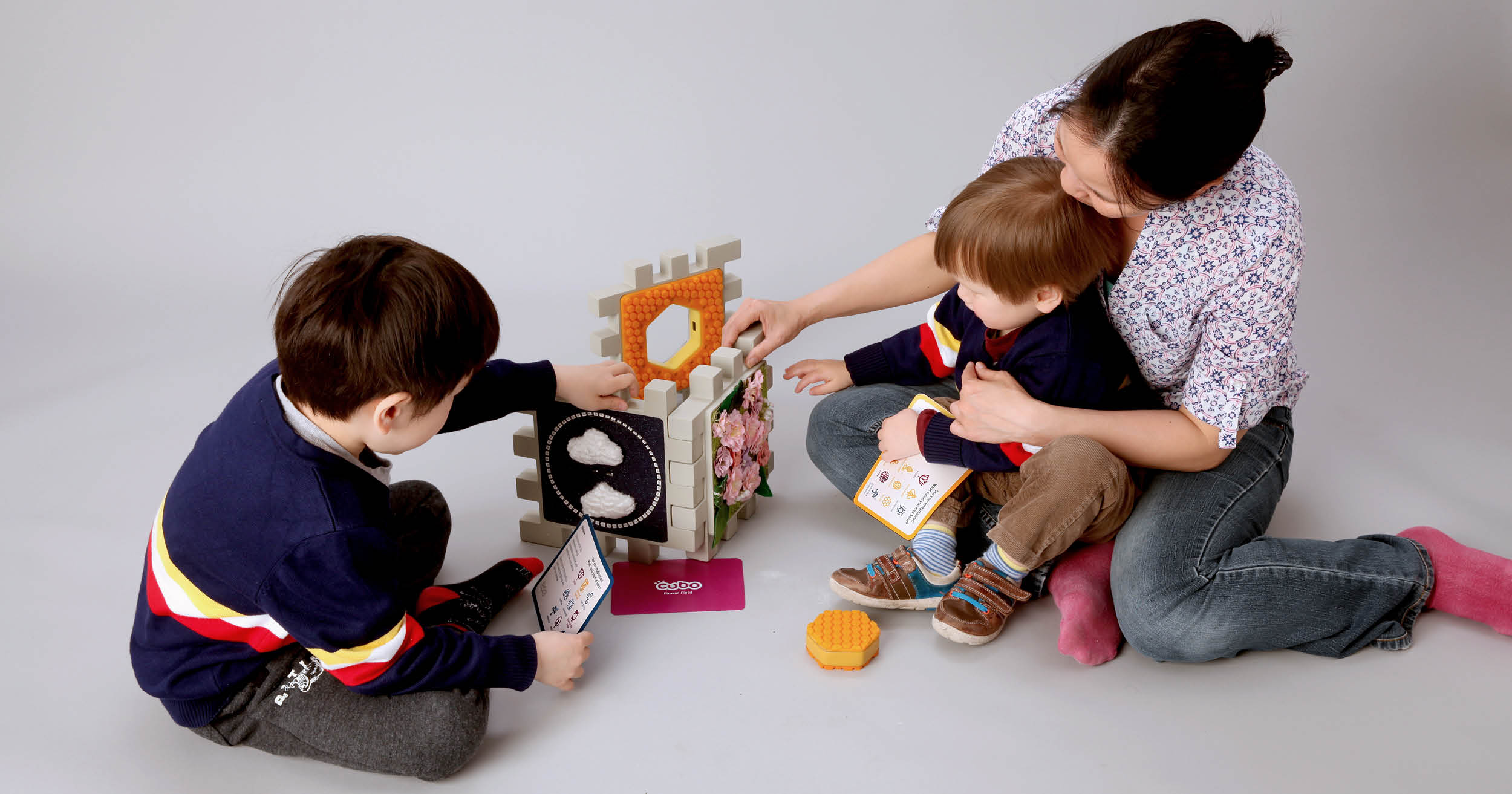 "Cubo is a modular sensory toy which allows the parent to build small scale interactive environments. The toy rewards the child for completing a task (ex. reaching out) with sensory feedback (light, sound, vibration). The more complicated is the challenge, the more sensory feedback is given"
Anna's series of sensory tiles can be built into any arrangement. Each tile is focussed on a different aspect of nature, encouraging children to develop a closer appreciation for the natural world around them. With an increasingly urbanised environment, we love Anna's approach that provides a completely accessible way to get closer to nature.
"Cubo helps the child develop 'cause-effect' thinking and stimulate their general cognitive development. The environmental theme of the toy encourages them to develop a positive relationship with nature."
10. Intuitive navigation for people with visual impairments
Emilios Farrington-Arnas Email Website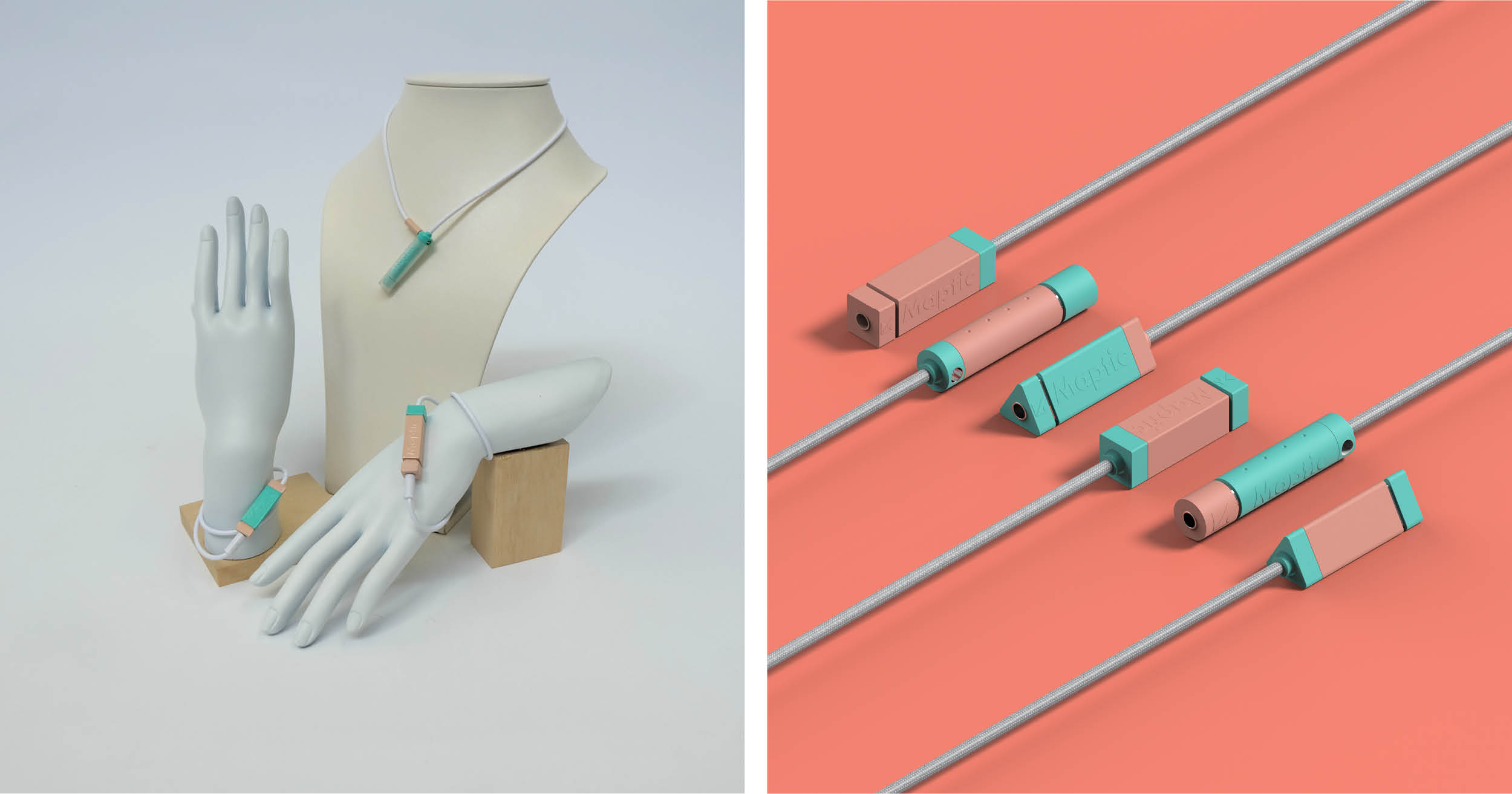 "Being told that you have a lifelong, incurable, eyesight problem is a terrifying prospect; one that is very difficult to come to terms with. For the visually impaired, retaining independence in day-to-day life is important; however, navigation can be a long-winded, potentially unsafe, process, especially in new environments, or at night. Simple tasks like travelling to work can become arduous and time-consuming, and more often than not need planning beforehand."
Emilios' system allows people with visual impairments to intuitively navigate their surroundings using vibrations to give alerts to potential obstacles. We love Maptic's minimal style that could easily be mistaken for a fitness gadget!
"Maptic is a system of wearable sensory devices, consisting of a visual sensor and vibrational feedback system. These customisable, personalisable modules can be worn without attracting the stigma that current assistive products harbour, while still accurately detecting objects in the visual field and transmitting them into intuitive vibrations on the body. Either disguised as jewellery or clips, or worn as statement pieces, Maptic is entirely adaptable to the individual and their style preferences."
Feeling inspired? Can't wait for these designs to hit the shelves? Share your thoughts on our top disability design picks in the comments below!