You are browsing the archive for Cracked It | 2016 May.
May 16, 2016 in Solution
Via BYU Capstone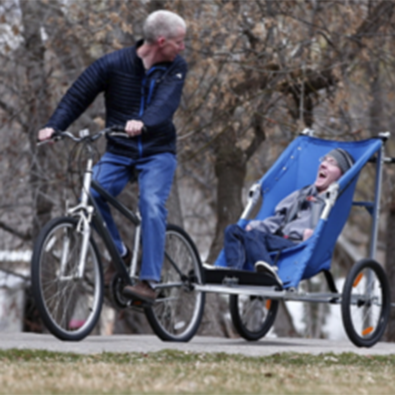 An open-source customisable adult size trailer design.
Download the design & instructions here.
May 13, 2016 in Solution
Via Gavin Phillips
Switch adapt two Nerf Vulcan machine guns using battery interrupters and two zip ties. (Edit: It seems the Nerf Vulcan has become rare/expensive, so see the bottom of the page for alternatives.)
Acquire two Manfrotto Magic Arms or kits (which are the same thing as "Universal Mounts," but cheaper because they aren't marketed as assistive technology…), and two extra clamps (four clamps total).
Attach a clamp to each end of each Magic Arm.
For each gun, clamp one end of the arm onto the tripod's mount, and the other onto the frame of the wheelchair.  Adjust to position and aim however you like.
Mount an "ECU 1/2" or "ECU 3/4" box on the wheelchair and connect it to the chair's electronics.  (This is the sort of thing that a supplier or clinic would do for you, as it requires a brand-specific wheelchair programming device.)
Plug a 9-pin D-sub to 3.5mm splitter cable (like this or one of the "802-" cables show here) into one of the ports of the ECU box.
Choose two of the 3.5mm plugs (left and right, or whichever directions work best for the user while driving the chair), and plug them into the battery interrupters of the Nerf guns.  (Alternatively, use a Y-adapter and connect one plug to both guns.)
Read more on Gavin's Blog
May 11, 2016 in Solution
My solution for "How can I eat my soup without losing it everywhere?"
Grant, the brains behind S'up Spoon has this one covered!