April 7, 2017 in Solution
My 6 year old daughter EJ has developmental disabilities and needs the security of a high full length bed guard.  The specialist solutions come with a hefty price tag so we have devised a solution that works well for us right now!
We bought a (high or low) single bed with a good sturdy frame.  We mulled it over for a while and considered lots of different options until one day I looked at our stair gate and thought, that's it!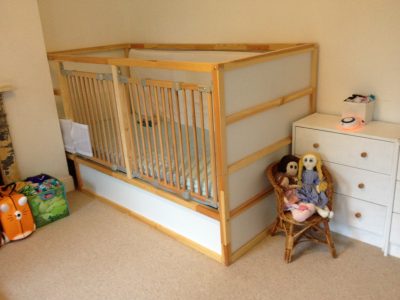 So the 'ingredients' for our hack are:
1 x Ikea Kura reversible bed (although I think the idea could equally work with the bottom bed in a set of bunk beds or a sturdy 4 poster style bed too)
2 x Baby Dan adjustable wooden stair gates
1 x Wooden post (of a cross section to as close as possible to the bed frame).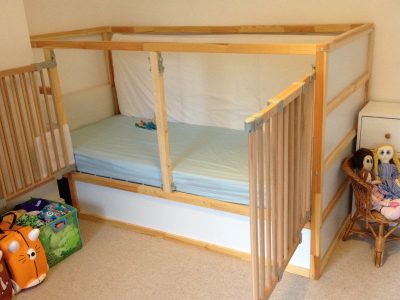 We built up the bed following the standard instructions.
This bed comes with one solid end, so between the two corner walls and this solid panel, there is only one long open side left to deal with.
We cut a length of wood (in the same dimensions as the bed frame) down and fixed it as a post in the centre of the long opening, forming a little column in the middle of the frame.  This gave us two 'door' frames to fit our two stair gates into.  Fortuitously the height of the gates is just right to fit into the openings without leaving too large a gap at the top or bottom to get a head stuck in! And the gate sits low enough at the bottom so that the mattress overlaps the small gap there.
(For safety guidance, the UK building regulations for stair & balcony balustrades say gaps should be no wider than 100mm.)
You can read a bit more about it on my blog here