Shoulder brace
April 3, 2014 in Solution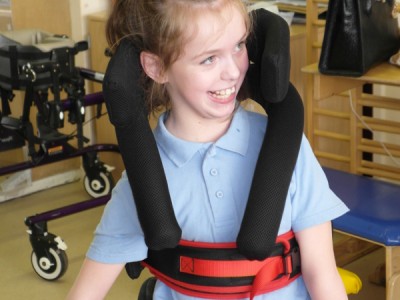 Chelsea was born with Cerebral Palsy, has very limited mobility and is a wheelchair user.  Her condition is underlined by severe spasticity which has severely hampered therapy designed to get her exercising and walking. Chelsea's grandfather bought her an excellent walking frame to improve her muscle strength, posture and mobility, all of which would eventually lead to much greater personal independence.
Unfortunately, Chelsea was unable to use the walking frame because it didn't provide adequate support for her head and upper body; her frequent spasms destroying any chance of her being able to focus on walking. The walking frame was reduced to being nothing more than a very expensive seat on wheels.
Chelsea's new bespoke shoulder brace with a built-in head support, which can be quickly and easily attached to the walker, ensures that her head and shoulders are fully supported. Chelsea can now use the walker as intended and properly benefit from her much needed muscle therapy. The change in Chelsea's mobility and general well-being is nothing short of astounding.
No challenge suggested yet