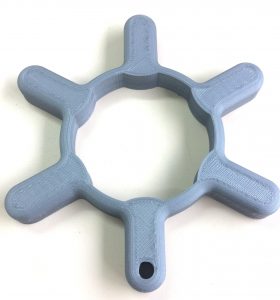 Date of completion: 12.10.2016
Link:
Description:
The Shower Adjustment Aid was initially designed to aid a client with low dexterity to adjust their showers settings. This model was designed around a 'Mira' shower that features a rotational heat and flow adjustment method. If your shower is slightly different we may be able to adjust the design to suit your needs, why not get in touch?
Here's the final design, you can download the CAD file amd make your own using a 3D printer! Find a 3D printer at your local makerspace, alternatively contact DEMAND Design & Manufacture for Disability for help getting or making this shower adjustment aid.
Make it Yourself
Download the necessary files using the download button and start making, if you don't have access to the necessary equipment you can use one of the available online services or buy one ready made from us!
Buy One Here
Coming soon
Donate to Help Others
If you like the look of what the team at DEMAND Design and Manufacture do you can donate to the charity here
Project Files
This download contains all the files necessary to make your very own shower handle