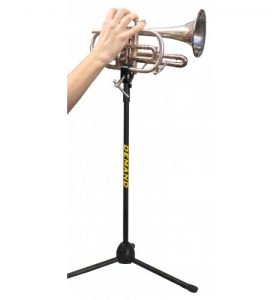 Date of completion: 12.10.2016
Link: https://demandequipment.com/demand-manufactured/index.php/manufactured-by-demand/instrument-stand-tripod-edition
Description:
The DEMAND Instrument Stand was designed as an aid to help those with limited strength and or dexterity to play a variety of brass instruments. The stand uses a simple clamp mechanism to securely grip the instrument. This also allows a variety of instruments to be played one handed. The lightweight tripod supports the weight of the instrument and can be folded for transport and storage.
Make it Yourself
Remember this design is totally open source, meaning you can download the necessary files using the download button and start making! You are welcome to alter the design to suit your needs. The Instrument Stand consists of a photography monopole with a camera clamp attached on the end. All the components are available from photography shops or alternatively if you're happy to shop online Amazon and ebay are excellent resources. The main thing to check when you're selecting your components is that the clamp and the monopole are compatible, you can do this by checking that the threads are the same on both components. The most common threads used with all camera equipment is 3/8″.
Remember we always like to see what you've made so upload us a picture and share it with cracked-it.
Buy One Here
If you can't make one yourself or you just don't have the time,  you can buy a ready made one from DEMAND's online store here. Remember to ask for our VAT exemption certificate if you're eligible.
Donate to Help Others
If you like the look of what the team at DEMAND Design and Manufacture do you can donate to the charity here
Project Files
Instrument Stand – Tripod Edition