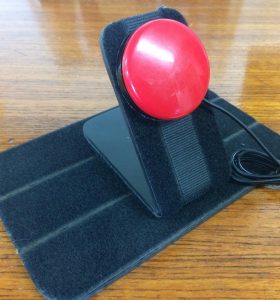 Date of completion: 10.09.2015
Link: https://demandequipment.com/demand-manufactured/index.php/manufactured-by-demand/adaptive-switch-adjustable-boards
Description:
A nice product to mount adaptive button switches to adjustable boards using velcro. Such switches are commonly used with a wide variety of disability equipment. The switchboards allow the switches to be angled and placed exactly where the user needs them for easy access.
This design was manufactured by one of DEMAND's craftsmen by hand. As a result of this, there are no CAD drawings to download. However, the principle of the design can be adapted to your individual needs. The process is exactly the same, cut the plastic to shape and size and bend where appropriate. Included in the download package is a selection of images demonstrating the design.
Make it Yourself
Download the necessary files using the download button and start making, if you don't have access to the necessary equipment you can use one of the available online services or buy one ready made from us!
Buy One Here
If you can't make one yourself or you just don't have the time,  you can buy a ready made one from DEMAND's online store here. Remember to ask for our VAT exemption certificate if you're eligible.
Donate to Help Others
If you like the look of what the team at DEMAND Design and Manufacture do you can donate to the charity here
Project Files
Adaptive Switch Adjustable Boards
This download contains all the files we have available to help you to make a "Adaptive Switch Adjustable Boards"